Pousada Laculá, Moitas, Ceará, Brazil
By bus
Count 5 hours of travel, with BR 222.

From the central bus station in Fortaleza, take the company Fret Car, daily departure at 14:30, with Moitas as final stop. When you get off, nearby the sea, the Pousada is 100 m to the beach.
By car
The Pousada is located 205 km from Fortaleza.
CE 085 road is in perfect condition from Fortaleza, then the road is dirt over the last 6 km to the Pousada Laculá (Moitas).
From Fortaleza, take CE 085 road towards Jericoacoara (west coast)
Continue on 170 km, then turn right at the roundabout towards Icaraí de Amontada (or Icaraizinho)
Continue for 27 km, passing the petrol station, turn left onto the dirt road towards Moitas
Continue 6 km towards the seaside, passing by the wind turbines
Access map from Fortaleza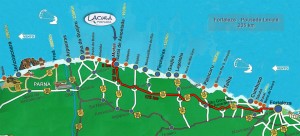 Map of Moitas

GPS
3° 00′ 3″ S
39° 41′ 55″ O
By the beach
At low tide it is possible to make a part of the path by 4×4 or buggy with a professional driver.
Just for your eyes ! More information