Kitesurfing is an essential activity of this region.
During nine months of the year, from June to February, the wind is strong and blows regularly (95% of the time over 20 knots) throughout this part of the coast. No need to take your wetsuit, the sea is warm enough (more than 25°C).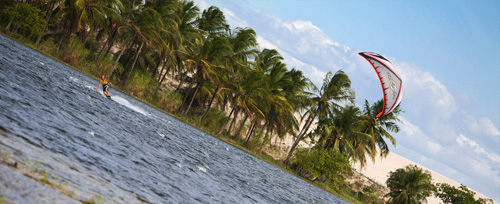 The outputs of rivers and freshwater lakes offer flat for freestyle and learning kitesurfing. For jumps and surfing, the waves located along the coast can reach 1m.
Pousada Laculá is one of the steps for athletes who travel along the coast of Ceará in kitesurfing.
For further information about it : https://www.downwind.ch
Opportunity to take courses in kitesurfing schools on Icaraizinho, more information contacting the Pousada.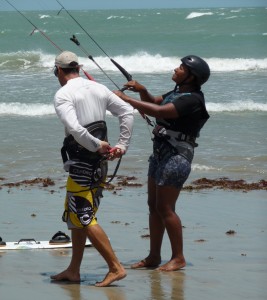 ---
Forecasts
Wind
Tides